書かれた Monty DiPietro
AMSTERDAM, May 13, 2006 -- Swiss karate stylist Bjorn Bregy scored three KO victories to win the Event Tournament; while American fighter Bob Sapp went AWOL from his Superfight with Ernesto Hoost at tonight's K-1 Europe Grand Prix '06.
If K-1's soul resides in Japan, then its heart beats in Holland -- Dutch fighters have won the annual K-1 WGP Final an astounding ten times in the sport's thirteen-year history. The Dutch fans are also extraordinary -- some 20,000 filled the Amsterdam Arena tonight to set an all-time international attendance record for K-1.
The Main Event Superfight was supposed to be a showdown between Ernesto Hoost and Bob Sapp. Much-anticipated round the world, the fight was a matter of pride for K-1 fans in Holland.
A cool, technical style earned veteran Hoost the nickname "Mr. Perfect," while expert kick and punch attacks earned him an unequalled four K-1 WGP Championships. But Hoost has a nemesis in Sapp -- the American NFLer-turned K-1 fighter who upset Hoost in their two meetings. On the occasion of his last fight in Holland, Hoost wanted very much to exact revenge.
But in an incredible sequence of events, Sapp disappeared from the Amsterdam Arena just moments before he was scheduled to fight. Only Sapp himself can provide the full story of what precipitated the terse statement from ring announcer Roland Wustenberg: "We are sorry to announce that Bob Sapp has left the arena. Simon Rutz Promotions did everything they could to keep him here, but he ran away from the fight."
The Dutch audience seemed accustomed to last-minute cancellations -- jeers quickly turned to cheers when it was announced that the resourceful organizers had persuaded Peter Aerts to step in as a last-minute substitute.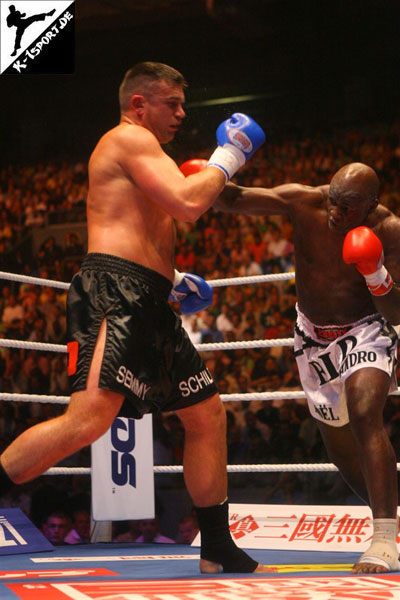 Peter Aerts vs. Ernesto Hoost
Wearing a baggy pair of trunks borrowed from Semmy Schilt (perhaps a right Aerts earned by beating Schilt in Auckland earlier this year?), Aerts performed surprisingly well for someone who had come to the event expecting to do television commentary. Hoost and Aerts put on a friendly, sparring out a decent consolation prize in lieu of the Hoost/Sapp showdown that was not to be. Both challenged with power, their crisp attack and defense techniques compensating for an understandable lack of killer instinct. The dance went three rounds and the judges liked Hoost, but both fighters got a warm response from the crowd.
Said Aerts: "I'd just finished eating when they told me Bob was gone and asked if I'd fight. It was a risk, Ernesto might have knocked me out, but it's always a risk so I decided to go in for K-1, although my wife wasn't very happy about it!"
"I have mixed feelings," said Hoost afterward. "I am very sad Sapp didn't come into the ring, but I'm happy Peter stepped up at the last minute. Because he didn't have a chance to train properly, I'd like to offer him a rematch later this year, of course, if he isn't fighting in the Tokyo Dome Final again."
In the second Superfight, K-1 World GP '03 and '04 Champion Remy Bonjasky of Holland went up against Jerome LeBanner, a French powerhouse oft-cited as the best K-1 fighter never to win the World GP.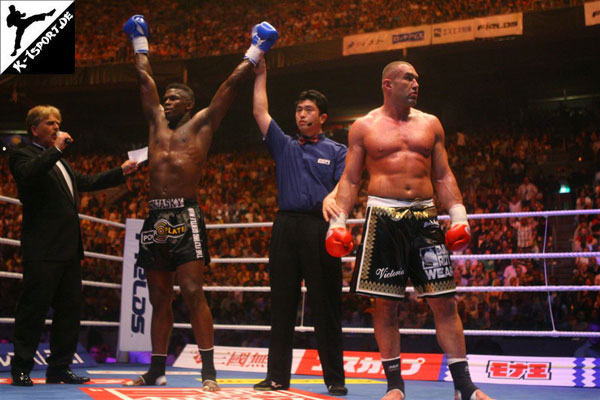 Remy Bonjasky vs. Jerome Le Banner
This started quickly, Bonjasky flying in with a knee, LeBanner brusquely swatting him away. Both men worked the low kicks in the first, Bonjasky tried some fancy stuff but LeBanner wasn't going to let him through. Again in the second the Frenchman blocked Bonjasky's high kicks well, and got in the work the fists, but could not sustain pressure. The third was the best of the bout, the fighters trading blows and clashing frequently and violently. LeBanner connected with punch combinations, Bonjasky characteristically more jazzy, with legwork. The call was a slim majority decision in favor of Bonjasky, who took center-ring to appealed to the audience to support relief efforts for his country of birth, Suriname, where 22,000 people have lost their homes in recent flooding. (Donations can be made through the Red Cross.) Bonjasky had problems of his own, he left for the hospital soon afterward to have his injured left ankle examined.
Defending K-1 World GP Champion Semmy Schilt of Holland is big (212cm/6'11"; 129kg/284lbs), powerful, technical and fast. His only loss in 16 K-1 bouts came earlier this year against Peter Aerts. In a Superfight here he took on countryman and K-1 veteran Lloyd Van Dams.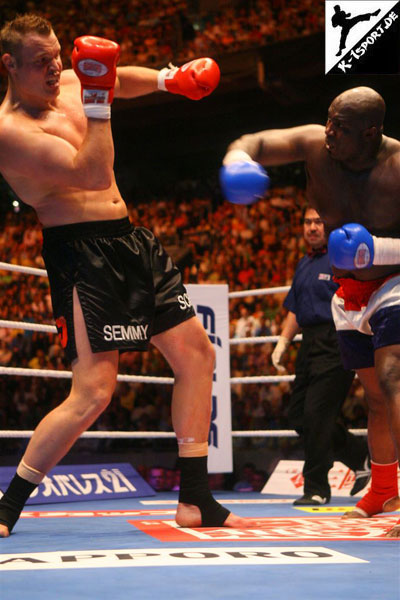 Semmy Schilt vs. Lloyd van Dams
Van Dams turned on the aggression immediately, barreling forward with overhand punches, but Schilt did well with the kicks to keep him outside, and worked the knees and body blows when the distance closed. Van Dams fired some low kicks in during the second, and Schilt made partial contact with high kicks, but Van Dams showed a good chin. Schilt tested more with the straight punches through the third, scoring enough points to pick up a unanimous decision.
The Europe GP tournament comprised eight fighters from seven countries, with the first quarterfinal pitting Alexey "The Scorpion" Ignashov of Belarus against Petr Vondracek of the Czech Republic.
The Europe GP '03 Champ, Ignashov had a disappointing showing in Paris last year, bowing out to Japanese underdog Noboru Uchida in the quarterfinals. Vondracek is a tough and technical kickboxer who won the K-1 Italy in 2002.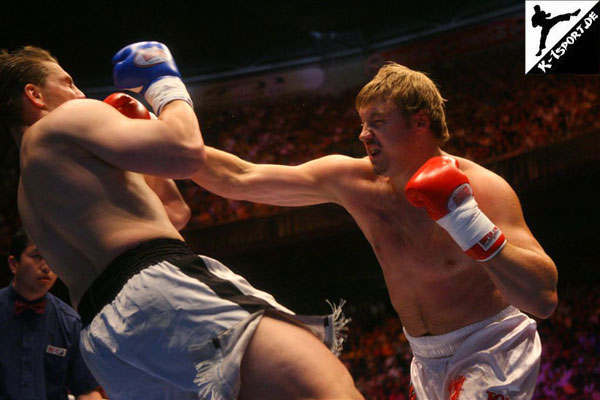 Peter Vondrachek vs. Alexey Ignashov
A trimmed-down Ignashov looked smart from the bell, moving fluidly and jabbing coolly with the left. Midway through he put the right hook in for a down, and Vondracek was fortunate to get out of the round. Vondracek started well in the second, chasing Ignashov some, but The Scorpion used the front kicks to control the distance then tagged his opponent with a right that set him up against the ropes. In a beat, Iggy slammed in a straight punch that felled the Czech. An impressive KO win for Ignashov and a trip to the semis.
The second quarterfinal saw Melvin Manhoef fighting Tatsufumi Tomihira of Japan. A 30 year-old Karate fighter, Tomihira can be scrappy. Manhoef, meanwhile, had the crowd on his side as the lone Dutch entry in the tournament.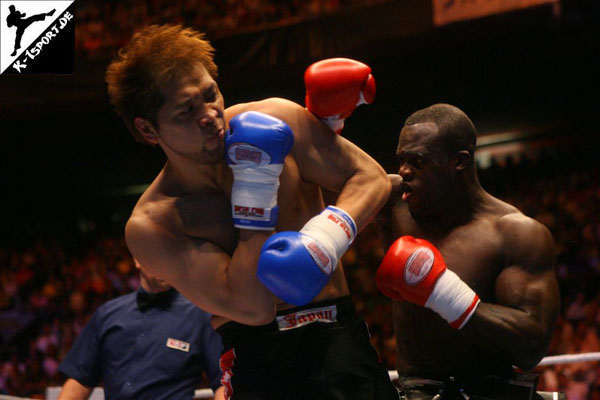 Tatsufumi Tomihira vs. Melvin Manhoef
Tomihira got the first licks in, a couple of zippy low kicks, but these were ably blocked. Then it was Manhole's turn, and he was fast, and he was mean. A combination shadowed by a tight hook dropped Tomihira once, and soon after resumption another hook did the trick once again. Tomihira had come a long way for a short fight, Manhoef went through.
Bjorn Bregy's first opponent was Frenchman Freddy Kemayo, who debuted in K-1 at the Europe GP in Paris last year, going down in the semifinals to eventual winner Schilt.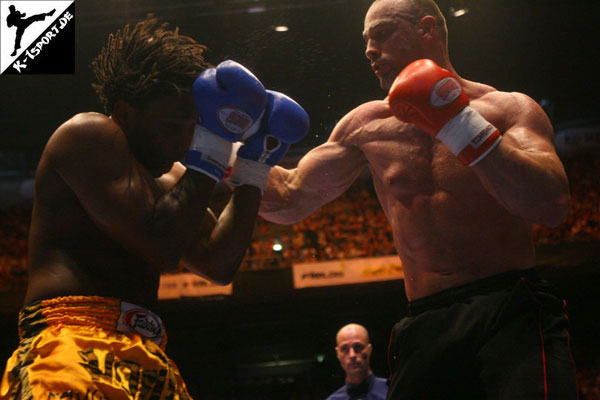 Freddy Kemayo vs. Bjorn Bregy
The first saw some slipshod sparring. Bregy got Kemayo into the corner and put the knees in then Kemayo fired a few high kicks up. Both fighters' evasions and blocking were sound and no damage was done. In the second neither fighter showed a great deal of creativity or belligerence. But Kemayo worked some good quick combinations to get the third going, and put Bregy on the run. The Swiss fighter responded to the challenge with a barrage of knees and fists, then caught the off-balance Kemayo with a punishing right for the KO win and a spot in the semis.
The last quarterfinal featured Naoufal "Iron Leg" Benazzouz, who showed some spunk to get to the Europe GP final last year. Iron Leg trains with the prestigious Golden Glory Gym -- home to both Schilt and recently-crowned K-1 USA GP Champ Chalid "Die Faust" Arrab. Iron Leg's opponent here was Attila Karacs, a Kempo fighter who notched three KOs to win the K-1 elimination tournament in his native Hungary this February.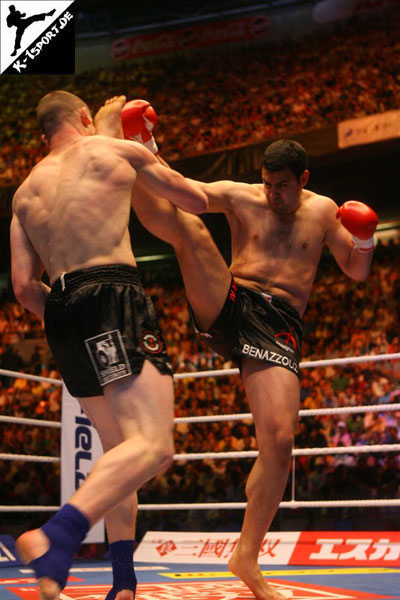 Attila Karacs vs. Naoufal Bennazouz
This was a fast one. Iron Leg, not surprisingly, used his legs. Karacs stepped forward with the straight punches early in and both men had their moments here, but Iron Leg picked his spot better, planting a right high kick to the side of Karacs' head for a decisive down and a KO win.
After the quarterfinals it was announced that Melvin Manhoef had injured his hand and could not continue in the tournament. Under K-1 substitution rules, Dutch fighter Gokhan Saki, who had beaten Rani Berbachi of France in the tournament first reserve bout, took Manhoef's place against Ignashov in the first semifinal.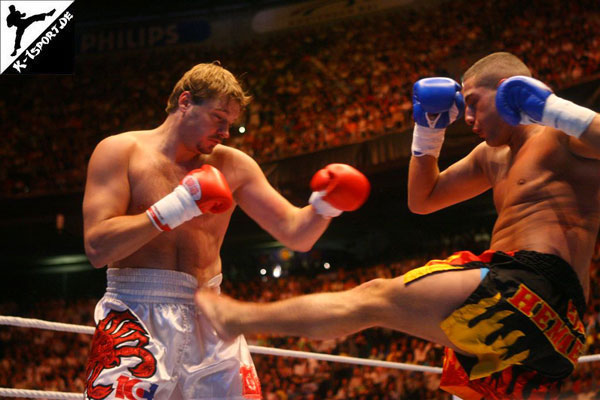 Alexey Ignashov vs. Gokhan Saki
Saki circled with a quick strike and retreat strategy, snapping in some respectable low kicks. Ignashov bided his time, looking confident and scoring with a left straight punch late in the first. Again in the second Ignashov waited, while Saki pestered him with the low kicks and just missed with a couple of high kicks. In the third round once again Iggy held back while Saki buzzed, and when time ran out judges really had no choice but to reward Saki's superior spirit with the decision. An upset win, and Saki was into the final.
The second semifinal saw Iron Leg hold his guard high and repeatedly step in against Bregy with quick combinations. A couple of punches and a high kick earned Iron Leg a down at the clapper to end round one. The momentum shifted dramatically, however, in the second.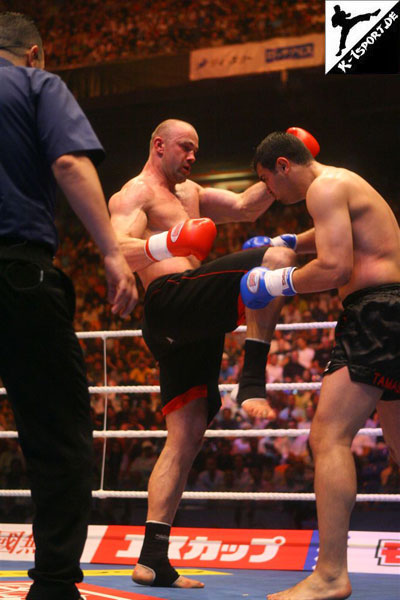 Bjorn Bregy vs. Naoufal Bennazouz
With Iron Leg pressing, Bregy brought up a knee that caught the French fighter in the sternum and sent him to the canvas in a pile of pain. Soon after resumption, Bregy capitalized on the damage he'd done, pumping the knee up again for a second down and another KO win.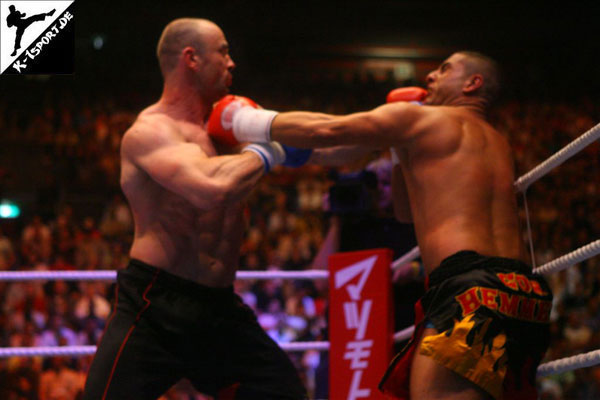 Bjorn Bregy vs. Gokhan Saki
Saki and Bregy presented an unlikely final pairing, but the contest was a good one, albeit brief. Saki was light on his feet from the start, fighting much bigger than his size. The low kicks were there, and the occasional high kick didn't miss by much. Bregy soon went on the offensive though, to bring the Cinderella story came to an abrupt end. Working inside on a counter, Bregy smacked a left punch onto Saki's jaw to flatten the Dutch fighter and pick up the tournament championship.
"I am happy to win with three knockouts!" said Bregy from the winner's circle, "I changed my diet, my exercise and my sparring and lost nine kilos training for this tournament, and got a great outcome."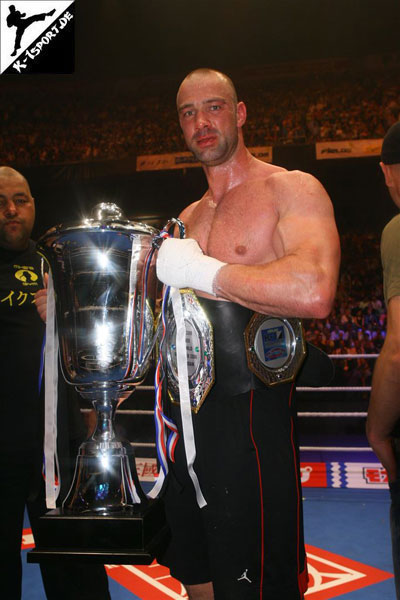 Bjorn Bregy, the Winner
The victory advances Bregy to this September's World GP Final Elimination, where he'll fight for a spot in the K-1 Tokyo Dome Final.
This was an all-day affair, with a total of 16 fights. In the second tournament reserve bout, Rodney Faverus beat fellow Dutchman John Delgado. In 70kg/154lb fights, Ray Staring of Holland beat Armenian fighter Gago Drago by decision, and Morad Deleski of Belgium beat Fikri Duabate of Holland by KO; in a 75kg/165lb class fight between a couple of Dutch fighters, Joerie Mes beat Ramon Dekkers by decision.
All bouts were contested under regular K-1 Rules (3Min. x 3R w/1R tiebreaker); but for the opening fight, a 93kg/205lb mixed martial arts rules contest in which Belgian Hakeem Goran used an armbar to submit Dave Dalgliesh of Holland.
Seating for the event was configured in a semicircle at one end of the Amsterdam Arena, a huge, modern sporting complex that is the home to European First Division football club Ajax. "You know," said organizer Simon Rutz, "it sold out so quickly that I'm sure we could have sold 40,000 tickets. So, next year, we'll see about that."
The K-1 Europe GP '06 was broadcast live on the Fuji Television Network and Fuji Satellite TV in Japan and on MBC/ESPN in South Korea. The event will be time-delay broadcast on EuroSport across Europe, ProTV in Romania, inDemand in the United States, Viewers' Choice in Canada and GroboSat in Brazil. The K-1 Europe GP '06 will be seen in over 100 countries, please check with local broadcasters for scheduling details.
And as always, visit the K-1 Official Website (www.k-1.co.jp) for complete post-event coverage.