書かれた Monty DiPietro
AMSTERDAM, May 12, 2006 -- The K-1 World Grand Prix represents the world's most prestigious fightsport crown, and the Europe GP is the jewel in the middle. Crown and jewel both look good on Holland, the tiny country whose fighters have won the WGP Final an incredible ten times in the sport's thirteen-year history.
This Saturday K-1 comes to the Amsterdam Arena, where a sellout crowd of some 20,000 is expected to set a K-1 international attendance record. The event will feature the eight-man Europe GP Tournament and three Superfights.
One of those Superfights will be the Main Event showdown between Ernesto Hoost and Bob Sapp. Much-anticipated round the world, the fight has become nothing short of an obsession for K-1 fans in Holland.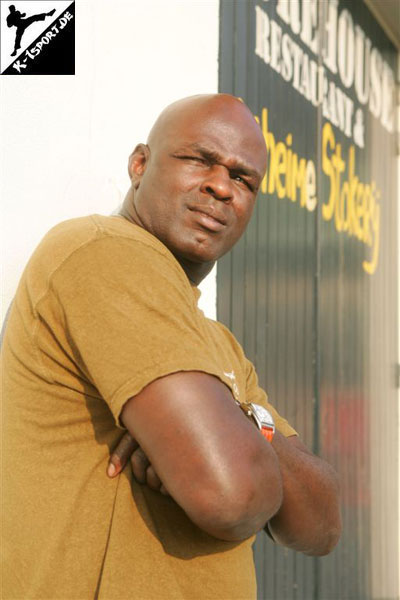 Ernesto Hoost
A cool, technical style has earned Hoost the nickname "Mr Perfect". Expert kick and punch attacks have earned him an unequalled four K-1 WGP Championships. Hoost can beat the best, but has a nemesis in Sapp -- the American NFLer-turned K-1 star recorded upset wins over Hoost in their two meetings. In his retirement match in his home country, Hoost would like very much to exact revenge.
At the Marriott Courtyard Hotel, the fighters met the media to share their thoughts.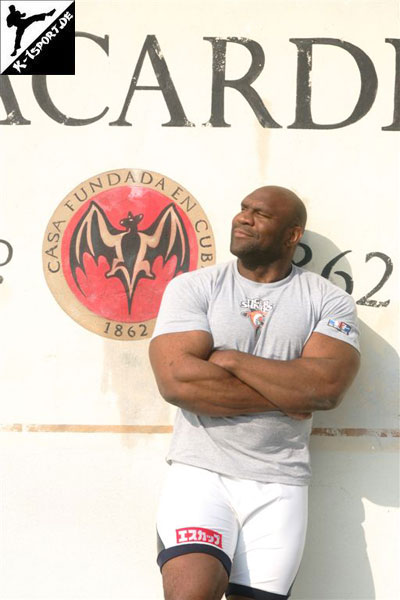 Bob Sapp
Said Sapp: "Yes, Hoost is a legend, and I was surprised to see the old man coming back! I've already beat him twice in Japan, so now I'll do it in his hometown. I know he's going to kick, but you'll see nothing but power shots from me. And I have a legend of my own, Maurice Smith, working in my corner. I can listen to him."
A highly-respected trainer, Smith said he has stressed a "back to basics" program for Sapp in preparation for the bout.
Hoost doesn't reckon it matters how Sapp trained.
"We don't even have to talk about the outcome," says Hoost. "I don't care if I beat him on points or beat him with a KO, I will do whatever I have to do to win! This is special because it will be my last fight in Holland, and yes there is pressure fighting here because Dutch fans are more demanding, but I feel relaxed. I hate to talk about this because it sounds like an excuse but I lost against Bob the first time because I was sick, and the second time I made some mistakes but I thought referee stopped it too soon. I have bad memories from those fights, so I'll settle things this time."
Defending K-1 World GP Champion Semmy Schilt of Holland will do battle in another Superfight. Schilt is big, technical, powerful and fast. His only loss in 16 K-1 matches came earlier this year against yet another Dutch K-1 Champion, Peter Aerts. Here, Schilt will step in against veteran Lloyd Van Dams, who is returning to the K-1 ring after several years.
Said a confident Van Dams, "I fought Peter [Aerts] and Ernesto [Hoost], and they were champions, so fighting Semmy is just the same, it's a fight like any other. I want to win, I want to go back to Japan, I want to eat some sushi and Korean barbeque!"
Schilt didn't discuss cuisine. Schilt only said he was happy to be fighting here as the World Champ, and would show the crowd a great fight.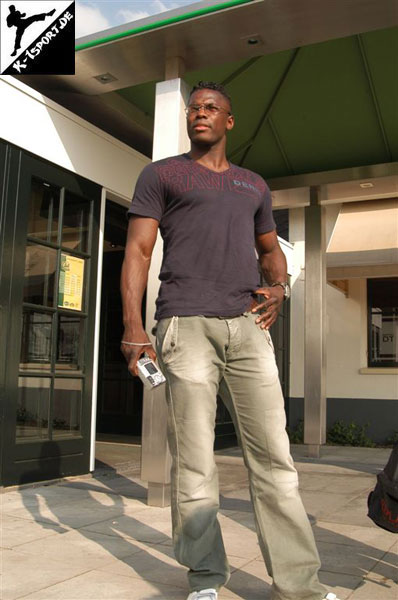 Remy Bonjasky
The third Superfight is a showdown between K-1 World GP '03 and '04 Champion Remy Bonjasky (who hails from, you guessed it, Holland), and Jerome LeBanner, a French powerhouse oft-cited as the best K-1 fighter never to win the World GP.
"LeBanner is one of the best fighters in K-1 and I think he's a better boxer than me, but I can hold him off with my kicks," said Bonjasky. "Last year was very hard for me, I lost my trainer, I lost my wife and I lost my title. I had to move on. Now I am working at the Regill Gym now and my confidence is back -- Saturday you'll see a 100 percent Remy!"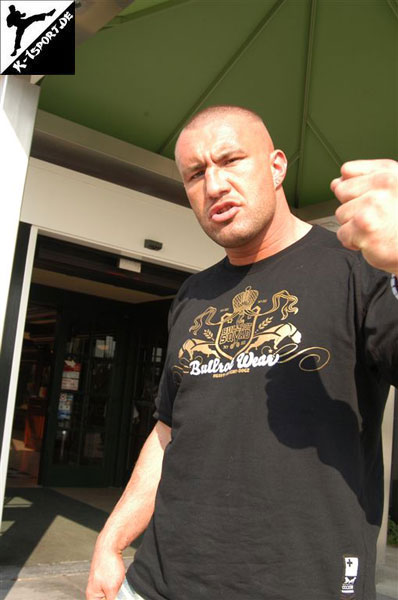 Jerome Le Banner
LeBanner's comments were classic LeBanner: "What do I think of Remy? Well, he is a very nice-looking guy, for sure. As for his fighting, I'll let you know after I fight him. If he kicks, I'll block the kicks and then I'll fight back with my fists, my kicks -- I'll fight back with everything!"
The Europe GP tournament will feature eight fighters from seven countries, with the one who wins it all advancing to the World GP Final Elimination and a shot at the K-1 Tokyo Dome Final.
The first quarterfinal pits Alexey "The Scorpion" Ignashov of Belarus against Petr Vondracek of the Czech Republic.
A Muay Thai fighter and the K-1 Europe GP '03 Champ, Ignashov had a disappointing showing in Paris last year, losing his quarterfinal match with underdog Noboru Uchida of Japan. Vondracek is a Czech kickboxer who won the K-1 Italy in 2002.
The question is whether Iggy has the mental and physical preparation to compete at the top of his game. Ignashov says he does.
"I feel fine, I trained in Belarus then in the Thailand sun for a month, I lost some weight, and my spirit is good," he told the media. "It's great to be in Holland, this tournament has a high level of competition, anything could happen. For my first fight, I will use my range against Petr and press him when he moves. Then I'll take it from there."
The second quarterfinal will see Melvin Manhoef fighting Tatsufumi Tomihira of Japan. A scrappy 30 year-old Karate fighter, Tomihira stands 185cm/6'1" and weighs in at 90kg/205lbs. Manhoef is a kickboxer, a year older and slightly smaller than his opponent -- but as the tournament's lone Dutch entry, Manhoef will have the crowd on his side.
Bjorn Bregy of Switzerland will meet Freddy Kemayo of France in the third quarterfinal.
Thirty-one year-old Bregy is a technical fighter who went to the finals of the 2003 World GP in Basel. Kemayo's K-1 debut was at the Europe GP in Paris last year, where he was stopped in the semifinals by eventual winner Semmy Schilt. Months later in Las Vegas, Kemayo again succumbed to the eventual tournament winner, Ruslan Karaev.
"Bregy is big and strong," said Kemayo, "I'll have to be mentally strong and use good movement to beat him!"
The last quarterfinal will feature Naoufal "Iron Leg" Benazzouz, who showed some spunk to get to the Europe GP final last year. The Frenchman trains with the revered Golden Glory Gym -- home of the likes of Schilt and recently-crowned K-1 USA GP Champ Chalid "Die Faust" Arrab. Here, he will face Attila Karacs, a Kempo fighter who put up three straight KOs to win the K-1 elimination tournament in his native Hungary this February.
In the tournament reserve it will be Rani Berbachi of France vs Dutch fighter Gokhan Saki. All bouts will be contested under regular K-1 Rules (3Min. x 3R w/1R tiebreaker).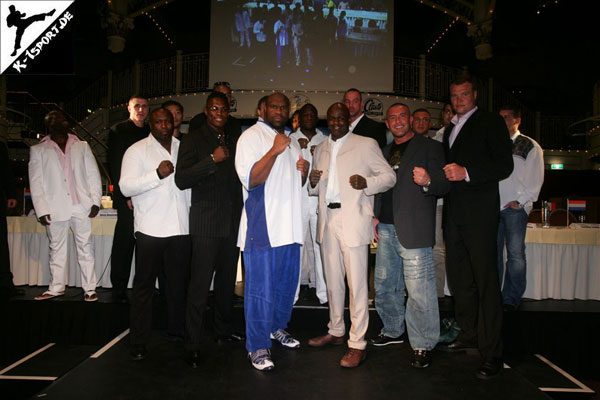 All Fighters
The K-1 Europe GP '06 will be broadcast live on the Fuji Television Network and Fuji Satellite TV in Japan and on MBC/ESPN in South Korea. The event will be time-delay broadcast on EuroSport across Europe, ProTV in Romania, inDemand in the United States, Viewers' Choice in Canada and GroboSat in Brazil. The K-1 Europe GP '06 will be seen in over 100 countries, please check with local broadcasters for scheduling details.
And as always, visit the K-1 Official Website (www.k-1.co.jp) for complete post-event coverage.